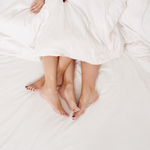 10 Sex Toys for Orgasms That Will Blow Your Mind
Whether you're an avid sex toy user or new to this erotic world and ready to start exploring, it can be challenging navigating the plethora of toys out there. We know the right toy is out there for you and want to help you find it. Here at Naughty SA, we're breaking down some of our favorites that we think you just have to try. Welcome to a world of amazing orgasms, we've been waiting for you.  
Pinpointing pleasure spots is essential for out-of-this-world orgasms. With 10 functions, you will not be disappointed with this product. It may be discreet in size, but its intense stimulation will do everything but disappoint
This g-spot vibrator provides stimulation in all the right places because it's equipped with two shafts - one for the inside and another for the outside. Full, deep orgasm? Yes please.
This toy is all about him. With its sleek and subtle design, you'll wonder how you've ever managed without this amazing butt plug.  
This toy is for those ready to get a little (or a lot) wet. Explore your fantasies with this easy to use, sexually liberating and interactive dildo. 
Is it time to let your partner take control? This vibrator offers constant clitoris contact, g-spot stimulation and We-Connect App connection.
This unbelievably realistic dildo is exactly what you've been searching for. It features essentials like a swollen head and a temperature responsive surface. Hello prince charming! 
Thickness where it matters. This must-have offers an invitation to sexual pleasure for the man wearing it as well as his partner. 
Every great sex adventure starts with a great lubricant. This edible, clear and safe product will do nothing but enhance your experience. And that means everything. 
Dreaming of an explosive orgasm? For satisfaction in all the right places, this life-like dildo has you covered, literally.    
Craving an intense, real life experience? This naughty toy offers internal ribbed textures and pleasure from the hole of your choosing.  
Whether you're looking to spice things up or are in need of a staple, the right product is out there for you. In today's sexually liberated world, you deserve orgasms that blow your mind. We hope something on this list leads you to an unforgettable experience. All of us at Naughty SA wish you much pleasure and endless orgasms. Happy shopping!