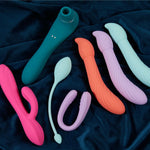 Should You Purchase a Vibrator or a Dildo?
Sex toys are a great way to bring a new level of excitement into the bedroom. Whether you're alone or with a partner, adult toys can help you tune in to how you like to be pleasured. 
While the sex toy industry brings in over $27 billion dollars each year, two classic toys reign supreme: vibrators and dildos. But how do you know which toy is right for you? Read on to find out.
What is a Dildo?
Dildos are phallic-shaped sex toys that are designed mainly for sexual penetration. That being said, there are countless ways to get creative with a dildo, and many people enjoy them orally or simply as a means of non-penetrating arousal. 
Dildos are usually semi-hard and do not vibrate (with the exception of vibrating dildos that feature a hollowed-out space to insert a vibrator). They are also available in countless sizes, shapes, colors and textures so you can personalize your self-pleasuring experience. Opt for a realistic dildo that feels like the real thing, or live out your wildest fantasies with a king-sized model. 
What is a Vibrator?
Vibrators are one of the most common sex toys in the country, with over half of U.S. women using them. The main difference between vibrators and dildos is that vibrators have an internal motor that gives them their trademark motion. While traditional vibration technology is still widely popular today, some models are more innovative, using suction or sonic pulses for a stimulating experience. 
Like dildos, vibrators come in all shapes and sizes. From rabbit vibrators to bullets, a vibrator is the perfect toy for those who need more than just penetration to find release. Vibrators can provide you with high-intensity stimulation that a human partner can't, making them perfect for those who are looking for new ways to find pleasure. 
Dildos
 

vs. Vibrators

If you're mainly looking for a toy that can be used for penetration, a dildo is likely the best choice for you. Many dildos even come with suction cup bases that make them ideal for solo hands-free pleasure. 

On the other hand, vibrators are great for people who need more than penetration. They are particularly suitable for women who find the best orgasms through clitoral stimulation. Whether you're with a partner or going solo, a vibrator can provide you with a more intense sexual experience. 
Finding the Right Sex Toy for You
No matter what kind of sex toy you're looking for, Naughty SA has what you need. From vibrators to dildos and beyond, shop the Naughty SA store for life-changing sex toys today.