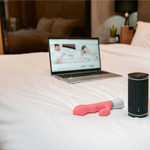 What's the difference between a vibrator and a dildo?
Everyone talks about them and seems to have used them, but what exactly is the difference between a vibrator and a dildo? Is one better than the other? With so many questions and so many varying answers, it can be overwhelming to know where to start. Here at Naughty SA, we're looking into two must have sex toys, noting both their similarities and differences. 
So, what exactly is a dildo? First and foremost, a dildo is meant to mimic a penis meaning they're shaped to look and feel, well, real. They're meant, more so than not, to be used internally. We encourage you to explore yourself and find places you never knew existed. Dildos usually have a textured material, which is an added bonus. If you've got some experience under your belt, chances are you have favorable textures and are familiar with the depths of your vagina. Dildos come in handy in this aspect because you can maneuver it in ways to target your favorite spots. 
Dildos can also be used by men and those with a prostate for stimulation. Dildos come in a never ending spectrum of shapes, sizes, and colors. Your dildo can match the color of your or your partner's skin, or you could spice it up and get a bright pink or rainbow dong. Shopping for dildos can be exhilarating because of all the exciting options and the fun that comes once you make your purchase. It's important to shop around in order to fully understand what all is available to you.
What about a vibrator? A vibrator's main objective is to offer external stimulation, but by no means, is limited to it. Some people have absolutely no issue with orgasming from penetration, but for plenty of other people, a little something extra is needed. That's where a vibrator comes into play. Vibrators are key for clitoral stimulation. The clitoris is the pleasure palace of the vagina. Go to town on the clitoris, and you're almost guaranteed a good time. Vibrators also tend to be smaller in size making things like storage and travel much more convenient. 
They can also be used simultaneously for extra pleasure. There truly are no limits, so explore your curiosity and let the ideas flow. If you've used a vibrator or a dildo before and felt like something may have been missing or you're ready to take the next step up, consider trying vibrating dildos or dildos with vibrator options. If you're wanting a combination of both, they're are plenty of toys that offer that crossover. 
In conclusion, there are both similarities and differences when it comes to dildos and vibrators. We encourage you to put your reservations aside and experiment with all the sex toys out there waiting for you. Try using each separately, allow your partner to join in, or even try using both at the same time. If you have a partner, discuss your interests with them and leave the door open to new possibilities. The world is, indeed, your oyster. 
Ready to try some out for yourself? Check out some of our favorites: