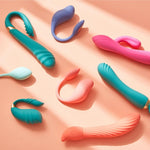 Why Does it Feel Good to Use a Vibrator?
Whether you're thinking about buying your first sex toy or branching out from the classic dildo, a new vibrator may be on your radar. But while 53% of women have already brought vibrators into their bedrooms, newbies and sex toy veterans are wondering: why does it feel so good to use a vibrator?
Ultimately, the answer to this age-old question requires a closer look at engineering and anatomy. Read on to find out how vibrators earned their status as the master of self-pleasure.
Frequency Matters
The movement of any vibrator is caused by its internal motor. Whether this motor is battery-powered or connected to a socket, it is connected to a weight that is deliberately off-centered. This off-kilter design causes the entire device to wobble as the motor spins, creating a vibrating effect. 
Vibrators run at a wide range of frequencies. Low-frequency sex toys run at a slower speed, while high-frequency models offer more intense pleasure. But regardless of the frequency, vibrators perform in ways that a human partner simply can't. This heightened intensity can make for increased pleasure in the bedroom for singles and couples alike. 
Vibrators: The Anatomy of Pleasure
Research in recent years has shown that only 18% of women can orgasm through penetration alone. This statistic has culminated in what's known as the "O Gap," a term that reflects orgasm disparity among heterosexual couples. For many women, the clitoral area is an ultra-sensitive bundle of nerves that's crucial for achieving release. 
There are countless factors that contribute to your ability to climax through penetration-only sex. For those who are stressed, busy or even too tired, this may not be enough to get you there. Age, body fat, libido and other health conditions can also affect your sensitivity level. In these cases, a high-frequency sex toy can be exactly what you need to maximize your pleasure in the bedroom.
But the reason a vibrator feels so good may even be a psychological one. Vibrators offer you the chance to personalize your sexual experience beyond penetration—often in ways that you can't with a human partner. This freedom to find what works for you sexually can be extremely empowering and contribute to a heightened sense of pleasure. 
Finding the Right Vibrator
To get the most out of your vibrator, it's important to choose the right one for you. Luckily, these sex toys come in a wide range of sizes and specifications. Choose a classic vibrator to enhance your sexual experience your way, or opt for a realistic model for a more intense version of sex with a human partner. 
For couples and singles alike, vibrators are a fun, pleasurable addition to the bedroom. Visit Naughty SA today to find the perfect vibrator for you.