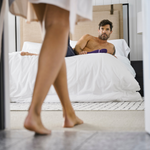 Best Sex Toys for Men in 2022
Whether you're in a relationship or flying solo these days, sex toys are imperative to a happy and healthy sex life. It seems that most sex toys on the market are catered towards women and their needs, but what about all the men out there? They deserve just as much pleasure! Well, good news because there are lots of great sex toys available for men to try and ultimately fall in love with. Join Naughty SA in highlighting the best sex toys for men in 2022. 
Are you satisfied with your erections? If you're wanting to add some power behind your main feature, you have to try this temporary enlarging cream. It's all about making great things, well, greater. Give this product a try if you're looking to intensify your sexual capabilities. 
Are you the only one enjoying your bedroom these days? Introduce this product to the secrets of your sheets. It feels just like the real thing, and it surely won't disappoint. Master some new moves before you get back out there in the real world. 
If you've been looking for a reliable strap-on, you're in luck because these comfortable shorts are everything you've been hoping for. They also feature open butt enhancers. It's time to take things to a whole new level. 
Have you always wondered what it would be like if you were packing another two inches? Wonder no more! Try this penis extender that features a realistic texture and head. 
Is it time for you to get a little more raunchy? This super soft yet strong rope comes in a variety of colors. Tie your partner up and let your creative juices fly. Its length allows you to try all kinds of things. 
These herbal supplements are the answer to all your sexual enhancement needs. They help you control your premature ejaculations while ensuring you'll leave your partner covered whenever you're ready. 
Are you looking for a different kind of ejaculation control? This spray is sure to extend your loving making session while its little bottle allows you to be extra discreet. 
So many sexual pleasures all packed into one toy. This wire controlled device is perfectly detailed and feels oh so real. It will be waiting for you whenever you're ready and will leave you feeling better than ever. 
Men deserve to be pleasured just as much as anyone else. We've given you a list of some of the hottest sex toys in the year 2022. If you haven't tried these, you're missing out on endless orgasms. You deserve to experience pleasure beyond belief, so do yourself a favor and try one of these today.