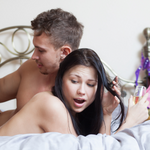 Did you know that the first dildo ever made and used was estimated to be from the Ice Age period, which was 28,000 years ago? The usage of dildos and sex toys, in general, can be traced quite far back in time, and sex toys are continuously becoming more progressive and inclusive.

As time has moved forward, dildos have become more diverse and unique. One major change in the selection of dildos would certainly be the size range.
A large number of dildo options have expanded to sizes ranging from what people consider normal to above average in size. The larger dildos on the market are especially more talked about and used. 
You likely are wondering why people care about dildo size and how to go about choosing which dildos with a large dildo size to add to your sex life. Read on to learn exactly why people tend to gravitate to a bigger dildo size and how they can improve your sexual experiences.
Why People Love Big Dildos

There are many different reasons people have a preference for big dildos. However, here are a few of the most common reasons why people look for a big dildo size when choosing a dildo.
1. Filling Sensation is Increased

Some people happen to like sex toys that give them a more filling sensation than commonly experienced. In this case, big dildos are the way to go when looking at dildo sex toys. 
For men, a larger dildo can not only make anal penetration more intense but makes accessing the prostate gland easier during anal sex.
For women, both clitoral and G-spot stimulation is increased. Some dildos are meant to intensify one stimulation more than the other, while some get the job done quite intensely at the same time. If a woman was looking for a big dildo to complete this well, here is an example of one intense dildo.
2. Easily Able to Grip
Big dildos are not only above average in length, but they are in girth as well. This makes them easier to hold onto. 
Being able to grip on by oneself makes it easier to use and makes the experience more enjoyable for the user. Here is one example of a dildo with an easy gripping area.
3. People Enjoy Experimenting
As people explore their sexuality and body, the progression of what they will try will expand. Many aspects of sex toys they may want to experiment with include material, technology, and of course size. 
These larger dildo sizes give people the opportunity to figure out what exactly they enjoy and do not. Some people may want to use them to expand their comfort with using a larger toy.

Buy a Dildo With a Large Dildo Size for Your Sex Life
At the end of the day, feeling comfortable partaking in a sexual activity alone or with someone is a must. People being able to use a sex toy at their own pace and with limits provides a safe way to get pleasure.
Naughty SA provides inclusive and diverse products, including a wide variety of dildos and dildo sizes for your sex life!
Contact us today if you have any questions regarding any of our products or information provided on our website.