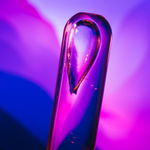 Find Safe Personal Lubricants to Meet Your Needs
When a woman is aroused, the vagina naturally lubricates, making vagina intercourse much more fun and satisfying. However, some women don't produce enough lubrication due to hormones, menopause, medication, or other factors. Whether you need something to get you to that sweet spot or want something to enhance the experience even more, finding the right personal lubricant can make a decided difference.
Why Use a Vaginal Lubricant?
For some women, dryness is so extreme that intercourse becomes painful. When pain occurs, the vagina's lining can become damaged. Lube is necessary for some women to protect sensitive vaginal tissue, as natural lubrication levels fluctuate throughout a woman's monthly cycle. Artificial lubrication helps keep vaginal tissue soft, and most importantly, reduces friction during penetration.
Lubes aren't only for combatting vaginal dryness. They're also a whole lot of fun! Using a personal lubricant for vaginal intercourse can take the experience to a whole new level for you and your partner as including lubricants in your lovemaking will enhance and intensify the experience.
Types of Vaginal Lubricants
Personal vaginal lubricants fall into three main types: oil-based, water-based, and silicone-based. Water-based lubricants are the most common. They mimic cervical mucus with lower salt concentrations and are the least irritating. Water-based lubes are also appropriate for other types of sex play, so they are sort of a one-size-fits all aid. Oil-based lubricants commonly contain baby oil, mineral oil or even petroleum jelly. These are not recommended for use with condoms as they can degrade condom integrity and render them useless when trying to prevent pregnancy or sexually-transmitted diseases. Silicone-based lubricants are designed not to dry out and generally last longer than water-based lubes.
Choosing Your Perfect Lubricant
What do you look for when choosing a lubricant? When choosing your personal lubricant for vaginal intercourse, you should keep several things in mind. Foremost, you're going to apply the lubricant to one of the most sensitive parts of your body. If  you or your partner tend to have reactions to preservatives, try the Pjur Vegan Water-Based lube. With this product, you get the additional advantage that it has not been tested on animals. Generally, water-based lubes are also better for those with sensitive skin.
Do you want to spice up your sex life? Choose one of our flavoured lubricants for some extra fun. Flavoured lubes are primarily water-based, so they are safe to use with condoms and during pregnancy. Plus, they are oil- and fat-free.
If you plan on spending several hours or all night long getting off, then an oil-based vaginal lubricant may be your best choice as you don't have to keep reapplying it and risk cooling the moment. At Naughty SA, we have a great selection of silicone lubricants, including Pjur Basic Silicone and Pjur Woman Silicone. You may also like to use these products as a massage oil for even more fun.
The great thing about using vaginal lubricants is that they don't contain any hormones and don't have any adverse systemic effects. If you experience a burning or irritation, try one of our other lubes for greater comfort.