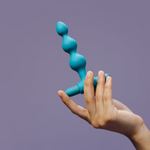 What Are the Best Masturbating Toys for Men?
According to a recent survey, approximately 66% of men have bought a sex toy before. Some of these toys are for using intimately with a partner, but an increasing number of men are using them for self-pleasure. 
While there has been somewhat of a stigma surrounding male masturbation aids, the reality is that this concept has existed for a long time. In terms of production, masturbating toys for men have been around since the early 1900's, when the first inflatable doll was invented. 
Nowadays, there are many different toys on the market. So, whether you are a first-time user, or you are looking for the latest craze, here is a guide on the best sex toys for men. 
Front and Center
If you are looking for a self-love experience as close to the real deal as possible, there are a range of masturbators that simulate the feel of a vagina, anus, or mouth. Some even have multiple options in the same device. Others are molded after famous porn stars' vaginas, for those looking for a certain extra level of authenticity. 
Visually, they range from realistic and large to discreet and easy to carry around. The most immersive option is the F*ck Me Bare Mega Masturbator, which is life-size and includes both anal and vaginal holes, as well as breasts for the most hands-on experience you can get with a sex toy. 
If the simulative experience isn't for you, consider cock rings, which come in a variety of forms. You can find some that cater to both your cock and your balls, allowing for multiple erogenous zones to feel stimulation at once. 
Hitting the P-Spot
Whether prostate stimulation is your main source of orgasm, or you are looking to explore your p-spot pleasure center for the first time, there are a range of toys that can help you reach your peak.
The Ultimate Silicon P-Spot Teaser is perfect for exploration. It has a handle with finger holes for maximum control, helping you securely discover how you prostate likes to be stimulated.
Butt plugs and anal beads have been around for a while, and come in many forms. However, if you want to really treat your p-spot well, consider purchasing a prostate stimulator that vibrates. The Tentacular Prostate Massager is an excellent choice, with 10 differing levels of vibration! 
Other Masturbating Toys for Men
Don't underestimate the power of your nipples as an erogenous zone. Nipple suckers are the perfect way to increase sensitivity in this often forgotten stimulation point. These silicon suckers stay in place through the power of gentle suction, leaving your hands free to take care of other areas.
Take Yourself to Cloud Nine Today
With more and more people exploring their sexual preferences solo, the taboos surrounding sex toys are disappearing. What's more, once you've discovered what you like most on your own, you can share this newfound knowledge with a partner. This will help you increase your level of intimacy, taking each other to new orgasmic heights.  
From pocket masturbators to blow job simulators, high-end butt plugs to p-spot vibrators, Naughty SA has all the latest masturbating toys you could possibly need. To find the best sex toys that will bring you to incredible, self-made climaxes, check out the For Him section today!