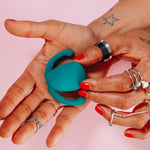 What does a vibrator feel like?
Whether you are looking to improve your sexual health, explore new options with your partner, or are new to looking at the options of adult toys, you may be asking, " What does a vibrator feel like?"
The answer to this question can vary greatly depending on the person, their personal preference, and the type of vibrators they are using. Let's explore what contributes to how a vibrator can feel and how you can start your journey of exploration.
Different types of vibrators
The first thing that can contribute to how a vibrator can feel is the type. There are many different types of vibrators, like realistic vibrating dildos, egg bullets, mini vibrators, G-spot vibrators, and rabbit vibrators. Vibrators also don't have to be solo acts. There are also remote control vibrators that can be great adult toys for couples.
While egg bullets and mini vibrators can provide clitoral stimulation, G-spot and dildo vibrators can provide more stimulation with penetration, and toys like rabbits can provide dual stimulation.
Type of vibration
How a vibrator feels will also depend on the type and intensity of the vibration. Vibrators are often described as either buzzy or rumbly. While a buzzing sensation provides more stimulation on the surface, rumbles will stimulate beneath the skin.
Most vibrators also have varying speeds and patterns. These toys often provide a choice of a light, tickling sensation to high-intensity rumbles or buzzes, as well as levels of intensity in between. Some vibrators even have different patterns, from consistent pulsing vibrations to wave patterns and more.
Budget
The quality and price of adult sex toys will also often make a difference in how they feel. An adult toy at any price can provide a positive experience. However, less expensive vibrators may be buzzier, while higher-priced ones will be more rumbly. Inexpensive vibrators may also have fewer intensity levels and pattern choices.
Getting started with a vibrator
When entering the world of vibrators and masturbators, the multitude of choices can be overwhelming. As you begin your search, first consider your budget to decide what price range to look in, and then decide what type of vibrator you are looking for. As you narrow down your search, you can look at product descriptions to see how the toy functions.

Our products on Naughty SA not only have helpful descriptions of what to expect from the toy but will show you how many speeds and patterns each toy has. The descriptions may help you find which toys light your fire more than others.
Experiment with what you like
There is a reason there are so many different vibrator choices out there; everyone is different and has their own preferences. While one person may like the highest setting on a buzzy G-spot vibrator, another may like a feathery sensation on a small bullet vibe. Be patient with yourself and with your partner as you figure out the best adult toys that work for you, and have fun as you go on this journey of self-exploration!