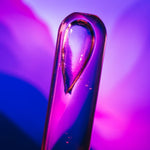 What Lubricant is the Best for Male Sex Toys?
If you've recently invested in a new sex toy (or you're thinking about it), you probably want to choose a lube type that's designed for the item of your choosing. Not all lubes are created equal, so before you move forward, it's a good idea to learn about what lubricant is best for male sex toys.
We'll cover the three main types of lube and explain which male sex toys are appropriate for each of these lubricants.
Water-Based Lube
Most of the time, water-based lubricant is the way to go when sex toys are involved. This type is usually the safest, no matter what material you're working with. It's universally the best option as water-based lubes don't deteriorate the outermost layer of your adult toys. Additionally, water-based lube is body-safe.
For some users, water-based lube will need to be applied more often, as constant friction can cause the applied layer to wear away faster than other lube types.
Silicone-Based Lube
Silicone-based lube can be applicable when using male sex toys like masturbators and vibrators if the toy itself is made out of hard material. Glass, wood, solid plastic, and other non-malleable material can pair well with silicone-based lube.
However, if the adult sex toy in question is a silicone item, avoid silicone-based lube when using it, because silicone-based lube and silicone material can negatively interact with one another. You might not notice it at first, but over time, silicone-based lube can deteriorate silicone sex toys.
Oil-Based Lube
Oil-based lubricant has its benefits, but using it on most of your sex toys isn't one of them. It can be used on glass or wooden material, but it should be avoided on plastics.
Additionally, if you're using a sex toy that's designed to penetrate you, oil-based lube is probably not the best option. Though thick and decent at creating a smooth glide, oil-based lubricant has a habit of coating the inside of the body. This can create a breeding ground for bacteria and enable the development of infections.
Bottom Line
If you're looking for the best lubricant for male sex toys, choosing a water-based product is probably your best bet. Water-based lubricant is gentle, both on the body and the toy, so using this type of lube will not only do the trick but will help keep your adult toys in their best condition for as long as possible.
However, if you're using a penetrating sex toy and you want your lubricant to last a little longer between applications, you might opt for a silicone-based lubricant. Just make sure you're using this lube type on a product that does not contain silicone (even some hard plastics contain silicone, so double-check before you proceed).
Oil-based lubrication is an option if you're using a sex toy that doesn't enter your body and is not made out of plastic. In most cases, though, you're better off choosing water or silicone-based lube.
Hopefully, you found this short guide informative. Enjoy your experience, and may we recommend a sex toy cleaner to go with your lube purchase? Sex toy cleaner makes keeping your adult items clean and in pristine shape easy as pie.