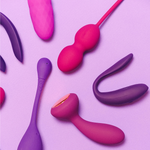 Which are The Best Sex Toys For the Ultimate Sexual Experience
The pleasure sector has seen a boom in technological advancements as people continually look for ways to enhance their solo or partnered sex lives. New sex toy technologies, brands and styles are popping up regularly, making it hard to select the best product based on your sexual needs. Sex toys can help you learn more about your body and sexual preferences and discover new pleasures. 
That said, whether you're looking for options for clitoral stimulation or anal and oral play, here's a breakdown of some of the best adult sex toys for men, women and couples. 
The Best Sex Toys for Men
Fleshlight Quickshot
The Fleshlight is arguably one of the most popular masturbators for men, and it was the first of its kind to hit the market. The Quickshot version of the toy is smaller than the original, offering just 3.5 inches of penetration into your penis. Due to its small size, it's easy to store and doesn't look like a typical Fleshlight, which is a plus since your sex toys aren't something you'd want a casual hookup to stumble upon accidentally. Additionally, the toy is designed to allow climaxing without worrying about a messy cleanup afterward.
Cock Rings
Cock rings can help regulate blood flow into your penis, making you harder and ensuring you stay hard longer. If it vibrates like the Lumino Play Vibrating Penis Ring, it'll do this and stimulate your partner simultaneously.
The Best Adult Toys for Women
Vibrators 
Vibrators can be a great addition for both solo and couple's play. You can go for big vibrating dildos such as the 9-Inch Real Softee Vibrating Dildo for a more controlled thrust or spice up your solo play with a vibrating butt plug. 
Dildos
Compared to the vibrating, high-tech adult sex toys currently available on the market, dildos may seem a bit outdated. However, they remain a popular option for women seeking to explore their sexuality and discover new ways to pleasure themselves. If you're planning on stretching your sexual boundaries, products such as the 8.5-Inch Real Extreme Dildo may be great picks.
Anal Beads
Although anal beads are in the same category as butt plugs, they're slightly different. They penetrate one bead at a time, providing an enjoyable pop feeling with each larger size that enters. If you enjoy anal play alone or with a partner, toys such as the Bubble Wand Butt Beds may be an appropriate fit. It features different-sized anal beads on a 29-centimeter-long flexible rod, with a firm design that makes it an ideal toy for in-and-out play.
The Best Adult Toys for Couples
Couple Vibrators
It's no secret that heterosexual intercourse may not be enough to provide the clitoral stimulation women need for a full climax. However, investing in a couple's vibrator, such as the Training Master Ultra Powerful Rechargeable Body Wand, could help spice things up in the bedroom. 
With over 10 individual massage patterns and five levels of speeds for pulsating drills, this wand delivers intense, pulsating massages. These may be enough to induce a toe-curling orgasm in your partner if they have trouble climaxing.
Shop at Naughty
 

SA

 

for the Best Selection of Adult Sex Toys     

If you're looking for a way to spruce up your sex life, at Naughty SA, we have a wide selection of products for your unique sexual needs. We offer everything from lube and accessories to sexy wear for men and women. Visit our website and browse our extensive catalog to find something for your needs.