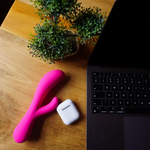 Best Beginner Sex Toys For Women
So, you're looking to buy your first sex toy. Right now you're probably feeling some combination of excited and intimidated. But, don't worry–there are several sex toys for women beginners that are easy to use. 
Whether you're looking to intensify solo play or spice things up with a partner, sex toys are an excellent way to enhance sexual pleasure. Now let's find the toy that's right for you.
Types of Sex Toys for Women
There's an endless variety of sex toys for women available for you to choose from. Ranging in size, color, and functionality, there's a sex toy out there to meet everyone's pleasure needs. To give you a better idea of what you might want, here are the different categories that sex toys for women fall into. 
Vibrators
As the name suggests, vibrators are sex toys that vibrate. You can find vibrators in all shapes and sizes from small bullets to large wands. These toys are commonly used for clitoral, vaginal, and g-spot stimulation. In general, vibrators are one of the best sex toys for women beginners because they are easy to use. 
Dildos
Dildos are insertable sex toys, often designed to look and feel realistic. Dildos vary in shape and size, some looking more realistic than others. Using a dildo is pretty straightforward and they provide penetration pleasure. 
Eggs
Sometimes called jiggle balls, eggs are small, discreet toys that sit inside the vagina. Eggs commonly have a range of vibration settings and typically include a remote making them ideal for couples' play. Some women use this style of toy for kegel workouts as well.
Butt Plugs/Anal Beads
When you think of beginner sex toys for women, your mind probably doesn't go straight to the back door. However, butt plugs are not as intimidating as they may seem. Plugs are used to enhance orgasms and/or prepare you for anal sex. 
If you're interested in experimenting with anal play, anal beads are ideal sex toys for female beginners. The beads usually consist of a string of glass or plastic beads that start off tiny and gradually increase in size as you go down the string. 
Best Sex Toys for Women Beginners 
A classic wand-style vibrator that's waterproof and rechargeable–ideal for travel and shower play.
This waterproof egg includes 10 settings and a user-friendly design so you can enjoy discreet pleasure no matter where you are.
Those looking for a realistic sex experience will enjoy the real softie vibrating dildo–complete with skin-like texture and 10 vibrating settings. 
These rechargeable panties include an insertable bullet that can be used with the panties or without. A simple and sexy way to enjoy yourself alone or with a partner. 
For a first toy, you can't go wrong with a simple bullet. Small enough to carry in your purse, you'll be pleasantly surprised at how powerful this toy is.
Quiet and powerful, this rechargeable vibrator will stimulate you in all the right spots. 
Comfortable to hold, this pleasured-packed wand is easy to use and is USB rechargeable. 
If you're looking to use toys with a partner, this easy strap-on set is simple enough for beginner use and delivers life-like satisfaction.
A smooth, quiet wand perfect for storing on your bedside table. Enjoy 10 different settings for ultimate pleasure.
These simple beads are the perfect way to start your beginner anal journey. Small and easy to use, you can't go wrong.
How to Clean Sex Toys
Cleaning your sex toys is incredibly important to avoid nasty bacteria and other pathogens from invading your vagina. There are several sex toy cleaners and wipes on the market but, most times you'll be fine to use hot water and dish soap. For a deeper clean you can use a pot of boiling water or your dishwasher on the disinfect setting. To be safe, always consult the manufacturer's cleaning instructions.