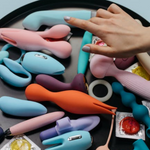 What Types of Sex Toys Do Couples Enjoy?
The global sex toy market was worth $35.1 billion in 2020 and is expected to grow to $54.6 billion by 2026. One of the largest assumed reasons for its rapid expansion is that more and more couples are beginning to use adult sex toys to spice up their sex lives.
Trying out sex toys in the bedroom for the first time can be quite a sensitive topic. Not only that, but there are a plethora of sex toys available, so it can be overwhelming to find the ones that suit both you and your partner.
In this short guide, we'll take a look at some of the most popular sex toys that couples enjoy to help you get started.
The Vibrating Cock Ring
The vibrating cock ring is one of the most popular first choices of sex toys for couples. For such a small device, it can bring a lot of pleasure to the bedroom. The cock ring helps to keep blood in the penis, so it stays super hard throughout sex. The vibrations also add extra stimulation to the penis.
But here's the magic part... The vibrating cock ring is designed so that the vibrating part of it rubs against the clitoris during sex to help induce earth-shattering orgasms!
Handcuffs, Blindfolds, and Paddles
A little bit of bondage never really hurt anyone! When it comes to spicing things up in the bedroom for the first time, most couples like to play around with dominant and submissive roles.
Handcuffs are a great way to bind your partner so that they are at your mercy. Blindfolds take away sight, which enhances physical pleasure. And, if you're feeling extra kinky, why not give your loved one a spank with a paddle to get them groaning. 
The Butt Plug
If you're feeling especially naughty, why not try out a rosebud spiral metal buttplug? Buttplugs add anal stimulation to regular sex and once they're in you can just leave them there. You can also use them as part of your 'stretching' routine to get yourself ready for anal sex. 
The Magic Bullet
The discreet yet wonderful bullet vibrator is a must for couples. You can take it anywhere, and some even come disguised as lipstick for extra discretion. The compact size of the bullet vibrator makes it an extremely versatile sex toy. You can use it to add powerful clitoral stimulation to any sex position or even on yourself while your partner watches.
The Strap-On
The Strap-on is very rarely the first sex toy that couples try out, but that's not to say it's not popular. Reversing roles is a popular bedroom activity, and the strap-on makes it possible. One word of warning though, don't forget to consult the recipient when you're picking out a size! 
The Prostate Massager
The prostate is widely considered as the male G-Spot. Prostate massagers are designed to press against the prostate and stay there, no hands necessary. They're a great way to bring a whole new sensational experience to the male partner.
Spice Things Up With the Best Sex Toys for Couples
No matter where you are in the evolution of your sex life, there is no better time to introduce sex toys for couples than now. Remember, it's always recommended to shop for sex toys with your partner. That way, you can be sure that your new sex toys are welcome additions for the both of you. 
If you're looking for sex toys for couples, then be sure to check out our store for everything you could possibly need to bring you both the ultimate pleasure.