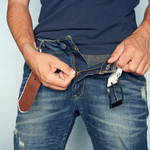 Do Men Use Vibrators for Sexual Stimulation?
Did you know that more than half of all American women use a vibrator? 
Sex toys for women are becoming more widely accepted in society. How about vibrators for men? Not every man will admit to owning or using a sex toy, but people with penises can also benefit from these delightful devices. 
If you're curious about trying sex toys, you may be wondering: how can men use vibrators? 
Here's all the buzz on men's vibrators. 
Can Men Use Vibrators?
The answer is yes; men can use vibrators! In modern culture, vibrators are most commonly associated with women's sexual pleasure. However, vibrators are also a great sexual tool for penis owners!
The head of the penis hosts over 4,000 nerve endings. In the same way that females enjoy vibrators on their clitoris, vibration on or near the penis head can feel incredible during sex or masturbation. The frenulum, which lies on the underside of the head, is a particularly sensitive area on the penis. 
Stimulating the head, frenulum, or shaft of the penis can provide different intensity levels. Vibrators are an excellent way for men and their partners to explore new sensations and intensify sexual experiences. 
Vibrators for Men
When you picture a standard vibrator, you may imagine a classic bullet or rabbit vibrator. Men can use these sex toys, but they may enjoy more sensations from vibrators explicitly designed for the male anatomy. 
Cock Rings
Usually made of flexible silicone, cock rings fit around the base of the penis to increase penis firmness and sexual endurance. Many men also find cock rings pleasurable, especially if they have vibrating features! Vibrating cock rings can also stimulate a partner's clitoris or anus during sex. 
Handheld Vibrators
Although they are most commonly marketed toward women, men can also explore with handheld and bullet vibrators. These versatile toys are great for beginners who are new to vibration. They can be held in hand during masturbation or used by a partner to tease your erogenous zones! 
Male Masturbators
Fleshlights and other pocket masturbators are some of men's most popular sex toys. Fleshlights can be used on your own or to spice up your partnered play. A vibrating masturbator like the Sex in a Can Vagina Lotus Tunnel takes pleasure to a whole new level!  
Prostate Toys
The prostate is sometimes referred to as the "male G-spot." This pleasure point isn't reserved only for gay sex; all men should take the time to explore their prostate. Vibrating massagers and strap-on dildos provide intense stimulation and explosive orgasms!
Anal Plugs
Like prostate toys, anal plugs insert into the anus to increase pressure and sensation during sex, oral sex, or masturbation. Vibrating anal plugs send waves of pleasure across the perineum, prostate, and penis shaft. 
Couples Vibrators
Using a couples vibrator can intensify sensations for both partners! Vibrators worn inside the vagina during sex stimulate both a woman's G-spot and a man's penis. 
How to Use a Vibrator
When it comes to playing with vibrators, the possibilities are endless. Here are some exciting ideas for exploring by yourself or with a partner:
Massage your back, neck, buttocks, and nipples
Blindfold and tease yourself or your partner
Stabilize the toy, then rub with your penis
Use the toy on yourself during sex or oral sex
Try mutual masturbation
While it's possible to use "feminine" vibrators to stimulate the prostate, you should choose your toy wisely. Toys for anal use are designed with internal safety in mind. Look for toys with a flared base or handle to keep them from getting lost in the anal cavity. 
Catch a Vibe
In summary, yes, people with penises can and should use vibrators! With such a broad range of vibrators for men, you're sure to find a toy that you and your partner will enjoy.
Ready to take your sexual pleasure to new heights? Why are you still reading? Shop Naughty SA's collection of hot sex toys for men and buzz off!