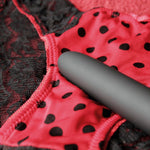 What's the Best Vibrator for Beginners?
The global sex toy market is expected to reach a value of US$54.6 Billion by 2026. The market is booming, but that also means there are a lot of products to sift through.
How do you find a vibrator that's body-safe and high quality? Should you go with battery-operated or USB powered? 
As a beginner, finding the perfect adult toys can be tough and even overwhelming at times. We're here to help you out. If you're looking for the best vibrator for a beginner, here are the greatest options on the market. 
The PowerBullet by Swan
Vibrating bullets make the perfect sex toys for beginners. They're small enough to be super discreet and compact for travel. It should be a staple in your collection. 
Don't let the small size fool you. Their shape makes them easy to handle, and they're perfect for clitoral stimulation. 
The PowerBullet has ten powerful settings that allow you to control the intensity. The tapered tip is ideal for intense clitoral stimulation. It's also only 10cm, making it small enough for beginners to experiment with on their own or with a partner without getting intimidated. 
For the ultimate experience, we recommend using a water-based lubricant. 
Toyz4Partner Vacuum Suction and Vibrator
Did you know the clitoris has more nerve endings per square inch than anywhere else on the human body? Its only function is for pleasure! 
That makes vibrators that stimulate the clit one of the best sex toys for women, as they're guaranteed to give you an amazing sensual experience. 
You can't go wrong with the Toyz4Partner Premium Vacuum Suction and Vibrator from Love Toy. This powerful toy features a unique design, including a head that gently envelops the clit. It makes a gentle suction motion and uses vibration to stimulate blood flow and the nerve endings in the genitals. 
The pointed tip is perfect for g-spot stimulation. It also features five suction speeds and ten vibration modes. 
We promise you'll experience an orgasm like never before. 
IJoy Silicone Dildo
When many people envision adult sex toys, they think of dildos. And vibrating dildos make excellent additions to your sex toy collection. 
With this rechargeable silicone dildo from IJoy, you'll never have to worry about scrambling to find batteries when the mood strikes you. 
We recommend the sleek and smooth feel of silicone for beginners. It's body-safe, feels great, and it's easy to clean. Just use a gentle soap and water or a silicone-safe toy cleaner. 
This silicone dildo is USB rechargeable, has three vibration speeds, and has seven patterns. Its petite size makes it the best vibrator for beginners! Plus, it's waterproof, so you can experiment beyond the bedroom. 
Find the Best Vibrator for You
If you're seeking the best vibrator for a beginner, you can't go wrong with these toys. Each one is designed to bring you pleasure in new and exciting ways. 
We carry a wide variety of vibrators in all shapes and sizes, so make sure to take a look! Don't be afraid to experiment to find what works best for your and your body.